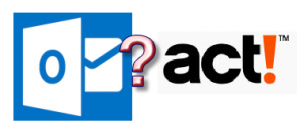 This checklist outlines the most common solutions to solve Act! Outlook E-Mail integration:
Initial Checklist:
If you have Outlook 2016, and made a software update after June 13, 2017, read this before going further.
If emails are not recorded to Act! history, try these procedures:
If the above suggestions didn't work, here are additional articles from Swiftpage for history not recording to Act!.
If starting Outlook, and it states the "Act! Address book isn't found..Would you like to edit the settings ?" try these steps:
Here are additional reasons on the address book not connecting from the Swiftpage website.
Here are the tech support options if these articles don't work:
Sometimes, we recommend a Outlook IntegrateR1 written by another consultant that is more stable and offers more features. For $30 a workstation + optional installation services, it's a good deal. Here is download to the trial version and manual. This program focuses on the recording of history to Act!.