MondoCRM simplifies these daily tasks
Document sales calls and classify their results
Schedule and share an itinerary
Manage a forecast
Retrieve their data on a PC, MAC, Android or Blackberry in real-time with an internet connection.
Simplify Data Entry and Search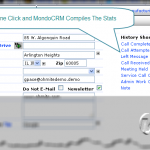 This video demonstrates how we reduce data entry by 6 steps when compared to ACT for a simple action like "Left a Voice Mail".  Our buttons classify the action and the type of account a sales rep just called.   MondoCRM classifies the result.  The sales person or manager no longer wastes time compiling call reports.  Watch the demos below.
Automate History Entry
Automate Territory Management

Combining Search & Easy Buttons to find and follow up with clients
Integrate Social Media

With the advent of LinkedIn, you can quickly find out if a business connection may exist by only three degrees of separation.  MondoCRM, with one click, takes you to the contact's LinkedIn page.
Task List & Calendar

MondoCRM has a calendar and task list so you can easily schedule, reschedule and create history for your call and future itinerary reports.  You don't have to re-enter the same contact information on  a second set of reports.  Salespeople use the calendar and task to remind them of follow ups while management reads it without repetitive effort.
Maintain and Share a Forecast

MondoCRM creates a pipeline, and you can either use a task list or a pipeline system to attain your goals.  The forecast screen can be customized for your company's unique pipeline report.  The sales person enters the data once, and it transfers to a forecast or directly to a quote form.
Share History Among Departments
From a single screen, sales, marketing & customer service can see all interactions to a client.  Individual silos of information are consolidated on a website.  MondoCRM for Manufacturing simplifies internal communications.