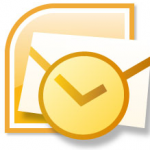 Outlook and Exchange Server is a very popular e-mail system for most small businesses over 3 people.
But Outlook as a CRM has limits such as:
You cannot track multiple history events by date & time stamp. Outlook just puts everything in one big note field.
You can look up a single contact and know all its history beyond attached e-mails to that contact
You cannot manage a sales forecast or create call reports
But Outlook is very easy to use and moves data to any SmartPhone, and it's always open.  So, why not extend Outlook with greater CRM capabilities ?
We partner with Avidian's Prophet for Outlook for those who need additional CRM features, but have no desire to leave Outlook.
Contact us for a demonstration.