Without the tedious tasks of exports and imports via Excel, Constant Contact offers a tool to integrate Constant Contact with Act!.  Here are the good news about the integration tool:
It's free with your subscription to Constant Contact Toolkit
It uploads from the List View of Act! to a list within Constant Contact
The upload tool will not create duplicate contacts since it's based on e-mail address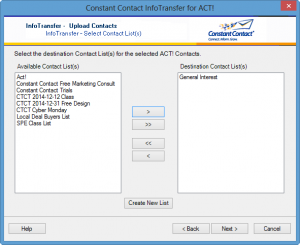 Here are its disadvantages versus the native Act! E-Marketing or Swiftpage E-Marketing Tools
Constant Contact cannot write to Act! history
Constant Contact cannot integrate survey results into Act!
MondoCRM offers a unique advantage to create and complete their marketing plans with certifications in Act! and Constant Contact .  Contact us when you need help with either program.