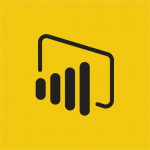 We bring data into one place to make informed decisions.
Enter Act! Reporting with Microsoft Power BI.  It can pull up any Act!, SQL, Access, MySQL and other CRM systems' data including Dynamics and Salesforce at the same time.  MondoCRM uses this in production with WiredContact + Act! (to pull Quickbooks Data) + 3 Excel workbooks at one time.
Here are some examples of Act! with Power BI reports published to the web:
In this sample video, I am able to quickly filter contacts on a map.