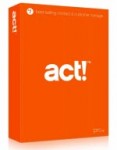 Act! Pro is geared to clients that need a "Smart Rolodex" that tracks contacts, history and a pipeline.   The Act! Pro user typically doesn't need a web server, work among multiple locations or require team level security.  Or, they don't want to need work with a web API.
The front end looks the same for both Premium and Pro, and most plugins work for both editions of Act!.
Act! Pro is great for clients that like stretch their investment for 3+ years, and they are uninterested in paying for annual support.  It's sold as a perpetual license (buy and hold); then, they can host the data locally for years until the Windows or Office environment is no longer compatible with Act!.  Here is the deep dive chart.
Act! Pro
For Small Workgroups
5 Users Max
Application Sync (1)
Not Supported in Hosted Environment (2)
Windows Desktop Only
No Mobile App Requires Handheld Contact (3)
Record Level Security Only (4)
Act! Dashboard Supports One User
Act! Phone Support Requires Extra Fee of $150/user/year
New Versions Not Included Includes Service Packs
Act! Web API Not Included (5)
Act! Premium
Annual Subscription
No User Limit Performance Depends on Hardware
Application Sync, Network Sync and Internet Sync
Supported in Hosted Environment
Windows Desktop, Web and Mobile Included
Includes Mobile App Supports Handheld Contact
Record + Team Level Security Available
Act! Dashboard Supports All Users
Includes Swiftpage Phone Support
New Versions Included
Act! Web API Included
Act! Pro doesn't sync across the internet, but we offer a service that circumvents their out-of-the-box-limits.
Learn more about Act! Premium in a hosted environment.
Typically, Act! Pro users use Handheld Contact for remote access.
Act! Pro doesn't offer team level security for contacts. Act! Pro contacts are only public (everyone) or private access (one user).
The Act! Web API enables clients to connect to outside web services to acquire data from other websites like Google Docs or Constant Contact