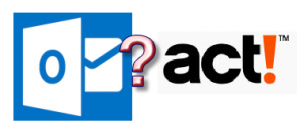 This checklist outlines the most common solutions to solve Act! Outlook E-Mail integration:
Initial Checklist:
Make sure your version of Act! is compatible with Office, and you can use this chart to checklist to ensure your versions are compatible.
Office must be installed before Act!.  If this didn't happen, uninstall and reinstall Act!.
Until Act! v19, only 32 bit versions of Outlook are supported, and here is how you check your edition of Outlook. If you have to downgrade Office; then, reinstall 32 bit Office. Then, reinstall Act!.
Click to Run versions of Office are known to problematic, and here is the deep article to determine whether its present even if you installed a full version.
If you have Outlook 2016, and made a software update after June 13, 2017, read this before going further.  Many of these problems were solved with v20.1, and we recommend upgrading.
If emails are not recorded to Act! history, try these procedures:
Solution 1
For Office 2013+, re-enable the Act! Outlook Addin. Instructions
Solution 2
Sometimes, for reasons unknown, Act! trashes the user name/password setting.  Add the Act! Address book credentials back to Outlook.

From Outlook go to File -> Account Settings -> Account Settings -> Address Books
Select Act Address Book and press change
Enter the Act! user name and password
Restart Outlook
Solution 3 (up to v21)
Solution 4 (up to v21)
Solution 5 (up to v21)
If only one e-mail didn't work, look at the history queue for individual messages' status
Solution 6
Re-Enable the Redemption Helper Extension in Outlook. Picture
Solution 7
If starting Outlook, and it states the "Act! Address book isn't found..Would you like to edit the settings ?" try one of these fixes:
Restart SQL. This usually applies to single user deployments or sync databases. Instructions
Click on Yes and change the settings to your current Act! file location, user name and password. If you changed the Act! user name or password or the path on the network where Act! is hosted, this error will come up.
Solution 8
If the above suggestions didn't work, here are additional articles from Swiftpage for history not recording to Act!.
Solution 9
Here are additional reasons on the address book not connecting from the Swiftpage website.
Additional Options
Here are the tech support options if these articles don't work:
If your company is on Act! subscription; then, you can contact Act! LLC at 866-578-7875 for phone support at no additional charge.
For Act! Pro clients, Act! LLC offers a $150/user/year support contract for Act! v23+. The number of users purchased must equal the number of licenses you own. So even if one workstation out of a five user license has this problem, a 5 user support contract must be purchased.
Use actkb.com as self-help tool
Acquire fee-based support from MondoCRM
Sometimes, we recommend Act! 4 Outlook written by another consultant that is more stable and offers more features. For $40 a workstation + optional installation services, it's a good deal.