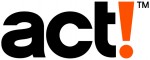 Act! makes it easy for you to manage anything and everything related to your contacts and calendar. Think of it like your business' command center that serves up relevant relationship details and also connects to powerful, subscription-based sales and marketing services, desktop and web-based productivity tools, and social media to help you get results. Here's how.
With Act!, you have organized access to the full spectrum—from basic contact info to rich customer history, even back-office updates[1], so you're in the know, instantly. Make the most of your work day with features that manage tasks related to and unrelated to your contacts, like personal to-dos. Even setup Smart Tasks to automatically trigger and perform tasks for you. Generate buzz for your business and turn new opportunities into paying customers when you connect to Business Info Services for Act![2] and E-marketing for Act![3]. which makes it easy for you to create, send, and track email marketing campaigns. And, work seamlessly with the tools you rely on every day, like Microsoft® Outlook®, Gmail®, LinkedIn®, and more.
We built our business on Act!, and we offer a complete range of consulting and hosting services.